First 2022 Expanding Empathy talk to examine moral emotion in online spaces
Rock Ethics Institute lecture series is scheduled to begin April 20
UNIVERSITY PARK, Pa. — The Rock Ethics Institute will kick off its 2022 Expanding Empathy lecture series with the first of four panels on Wednesday, April 20, presented by Kathryn J. Norlock, professor of philosophy at Trent University, and Molly Crockett, associate professor of psychology at Yale University. Focusing on the topic of moral emotion in online spaces, the pair of lectures and conversation will be delivered from 3-5 p.m. via Zoom. Pre-registration is required.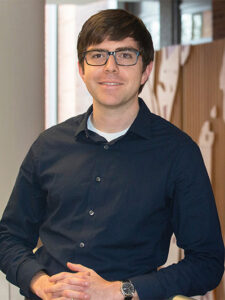 "For our first session, on the pros and cons of online moral emotions, I knew we wanted to bring in Dr. Crockett, whose discussions of online outrage have been very influential within the field of psychology," said C. Daryl Cameron, senior research associate in the Rock Ethics Institute (REI) and associate professor of psychology. "Dr. Norlock's philosophical writings on the interpersonal and ethical implications of online emotions are a quite intriguing complement, as both scholars are grappling with challenging aspects of how to deal with our emotions when conversing with others on Twitter, Facebook and other social media spaces."
Cameron, convener of the REI's Moral Agency and Development Initiative, is organizing the Expanding Empathy series in collaboration with Martina Orlandi, postdoctoral scholar in engaged ethics at the Rock Ethics Institute and the Schreyer Honors College.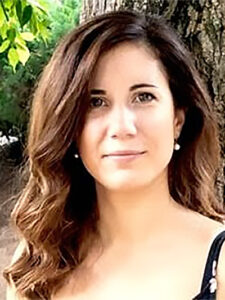 "There are a number of open-ended scientific and ethical questions as people learn how to be literate and sensitive in these spaces, where voices can be amplified and both more powerful forces for collective good," Cameron continued "and sometimes more destructive."
The panel, which will see Crockett and Norlock give talks separately before convening for a collaborative question and answer section, aims to examine empathy, a key goal of each Expanding Empathy lecture, in the age of the digital world.
"It's a major concern of mine that online participation is encouraged to be impulsive, off the cuff, and to 'friends,' when actually it is more like taking out a billboard on the interstate. Pointing at the other people involved and saying 'Look!' is my mission. But remembering that we're not alone is hard when most speech is typed into the internet in private on a personal device," Norlock said.
"One goal of our research is to raise awareness about how human behaviors in online settings can be shaped by corporate interests. Given that moral outrage can play an important role in collective action and social change, our work suggests that technology companies have the ability to influence the success or failure of social and political movements," Crockett added.
Norlock and Crockett will be the first speakers to participate in the collaborative question and answer, an updated format to the Expanding Empathy series. The goal of having two speakers is to see how two fields, psychology and philosophy, view topics differently.
"Our hope is that the pair of talks will elaborate the ethical implications of psychological discussions of online outrage…Philosophical ethics may help us understand the nuances and moral implications of online emotions that we observe in social science findings. And social psychology may help us understand the various mechanisms, predictors, and consequences of how outrage spreads online, seeing the lived implications of the ethical considerations," Cameron said.
Prior to the lecture, Martina Orlandi will be releasing a podcast with Kathryn Norlock, titled "Lecture #7," highlighting her background and laying the foundation for her lectures. There will be podcasts for each panel, which will be made accessible through the Rock Ethics Institute.
Norlock and Crockett will also participate in a meeting of the Moral Agency Workshop, an interdisciplinary collective of faculty and students interested in morality and ethical decision-making. This meeting will take place following the lecture on Monday, May 2, from 1-2 p.m. on Zoom to continue discussions from the lecture and network with students and faculty.
The Expanding Empathy series aims to highlight the value of cutting-edge scientific and philosophical work on empathy and moral judgment, and to highlight the importance of the interdisciplinary moral psychology research being done at Penn State.
The Expanding Empathy lecture series is supported by Penn State's Social Science Research Institute, Department of Psychology, Department of Philosophy, College of the Liberal Arts, College of Health and Human Development, and the Edna Bennett Pierce Prevention Research Center.
As part of his broader research and outreach on empathy and generosity, series organizer Daryl Cameron is supported by a grant from the John Templeton Foundation.
Established in 2001 through the support of Doug and Julie Rock, the Rock Ethics Institute promotes engaged ethics research and ethical leadership from its home in Penn State's College of the Liberal Arts.
Topic(s):
Expanding Empathy Lecture Series
,
Health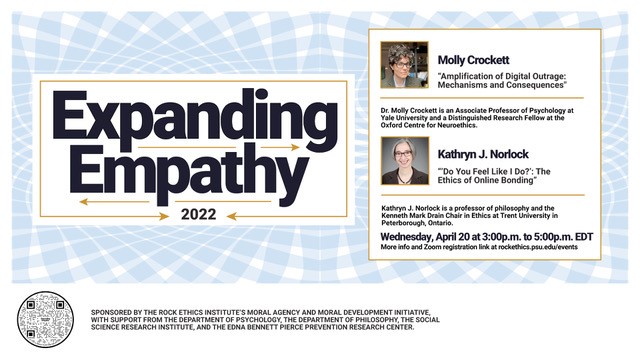 Image Credit: Tiny Little Hammers