Rock Ethics Institute honors Penn State undergraduates with Stand Up Awards
UNIVERSITY PARK, Pa. – The Rock Ethics Institute is proud to announce the winners of the 2021 Stand Up Awards: Timothy Benally, a senior in psychology; Nyla Holland, a senior in African American Studies and political science; and Amy Mook, a senior in biology. First established in 2008, these annual awards recognize undergraduate students at Penn State who have demonstrated ethical leadership by standing up for a cause, idea or belief. Through honoring their courageous examples, the awards aim to inspire others to become ethical leaders.
There will be a virtual ceremony to celebrate this year's winners on Thursday, April 22, at 4:00 p.m. Those who would like to attend should register beforehand.
"Amy, Nyla and Tim embody traits that we have seen in so many Penn State students during this difficult year—resilience and dedication to service," said Ben Jones, associate director of the Rock Ethics Institute. "In the face of tremendous hardships, each has persevered and shown incredible leadership in advancing justice and equity within their communities."
Timothy Benally
A member of the Navajo Nation, Benally is widely distinguished as a modern Indigenous leader at Penn State in building structures and practices to support Native American, Alaskan Native and Native Hawaiian students. Notably, he founded the Indigenous Peoples Students Association and helped develop a University Land Acknowledgment, which will recognize Penn State's responsibilities to the Indigenous peoples of Pennsylvania and be a step forward in building relationships damaged by historical wrongs.
In 2020, Benally became the first Native American at Penn State to receive a Udall Scholarship, which he received for his commitment to improving mental health care for Native peoples. It is an issue he cares passionately about, especially after experiencing firsthand how the COVID-19 pandemic disproportionately harmed the Navajo Nation and led to the loss of so many, including members of his own family. Shaped by these events, Benally emphasized his eagerness to implement his multicultural health psychology research as a McNair Scholar: "I plan to continue to heal systemic inequalities faced by Indigenous peoples and help them strive, both on and off their Nations."
His advocacy and service has left a lasting impression on Victoria Sanchez, the associate dean for educational equity in the College of Earth and Mineral Sciences. "Tim is a humble, devoted and ethical servant leader, who is committed to strengthening Native American communities at Penn State and beyond," she said. "His service to others is an inspiration to both students and faculty like myself. I am in awe of what he has achieved during his time as an undergraduate."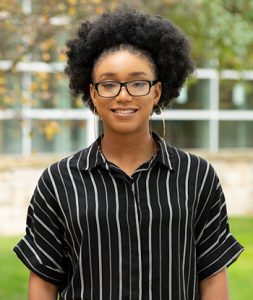 Nyla Holland
As president of the Penn State Student Black Caucus when nationwide protests erupted in response to the killings of George Floyd, Breonna Taylor and other Black lives, Holland found herself thrust into the role of one of the leaders in efforts to address racial injustices on campus and in the surrounding community. She rose to the challenge, partnering with organizations like the 3/20 Coalition to reimagine public safety locally in the wake of the fatal police shooting of Osaze Osagie, a young Black man with mental illness. She also served as co-chair of the Student Code of Conduct task force, which outlined recommendations to improve how Penn State responds to and holds students accountable for hate speech.
Holland has long been sensitive to inequity, which is a motivating force in her life. "Growing up in Philadelphia," she noted, "I was surrounded by people who suffered just because of the zip code they were born into. I fundamentally believe that everyone is deserving of a happy and healthy life, which requires us to keep working until we achieve a world without injustice anywhere."
Her efforts to advance racial justice have made Holland the target of attacks, including vile and racist language against her and other Black Caucus members during a Zoom bombing incident earlier this year. Her resolve in the face of such adversity has deeply impressed Candis Smith, associate professor of political science and African American studies: "Nyla has worked tirelessly to promote the well-being and safety of marginalized students at Penn State. She has taken on the burden of fighting racism and white supremacy, which continue to manifest themselves in our university town. It is a burden she should never have had to bear, but she has done so with grace, courage and resilience."
Amy Mook
Mook has been a passionate advocate for students with disabilities. She felt compelled to take action after her own experiences at Penn State. "The discrimination I experienced on campus was shocking to me," recalled Mook. "It prompted me to bring attention to the challenges that many students with disabilities face on a daily basis. If there are ways to ensure that these barriers are broken down, I will do everything I can to advance such efforts."
While in high school, Mook lost her father to pancreatic cancer. This loss shaped her journey into advocacy and led her to become president of Penn State's chapter of Sideline Cancer. In this work she gained experience that made her a more effective advocate in other areas, in particular disability rights. She has promoted and helped achieve greater accessibility on campus through representing students with disabilities before the Penn State Board of Trustees, being an active member of the Penn State Access Club and serving as a student representative on the University's Diversability Committee. She also is a program assistant for Stand for State, providing peer education on issues such as bias and discrimination.
For Sarita Greer, project coordinator and lab manager of the Shriver Laboratory at Penn State, Mook's achievements are nothing short of remarkable: "Amy has identified inequities that those with disability face on campus and spoken up for them, resulting in new awareness among both her peers and those in positions of power. She has done all this while being an exemplary STEM student, dealing with the recent loss of her father, and being a disabled person herself. She has been a shining example of ethical leadership."
About the Rock Ethics Institute
The Rock Ethics Institute, which sponsors the Stand Up awards, was established in 2001 through a $5 million gift from Doug and Julie Rock to the College of the Liberal Arts. The institute's mission is to promote ethical awareness and inquiry across the University.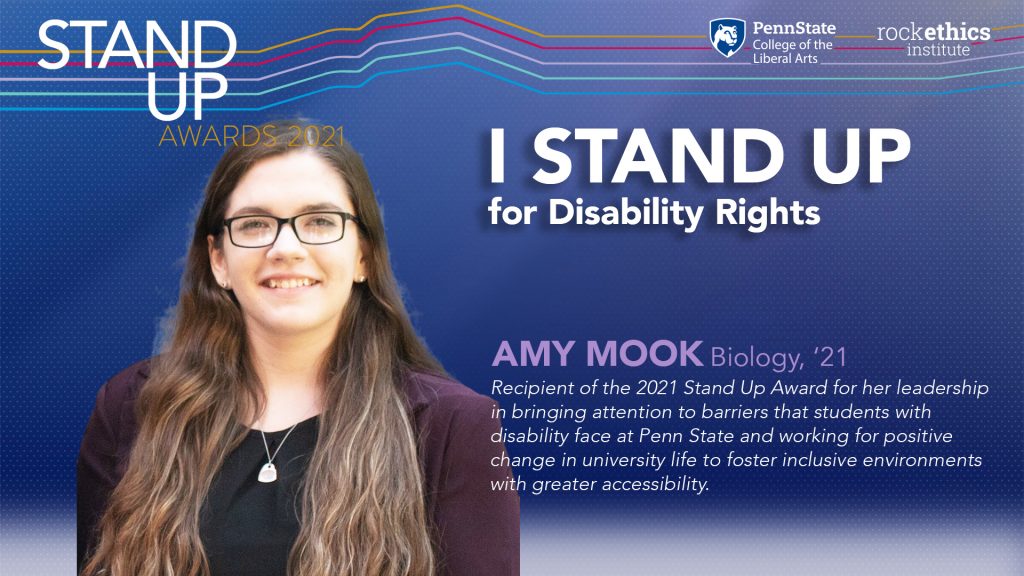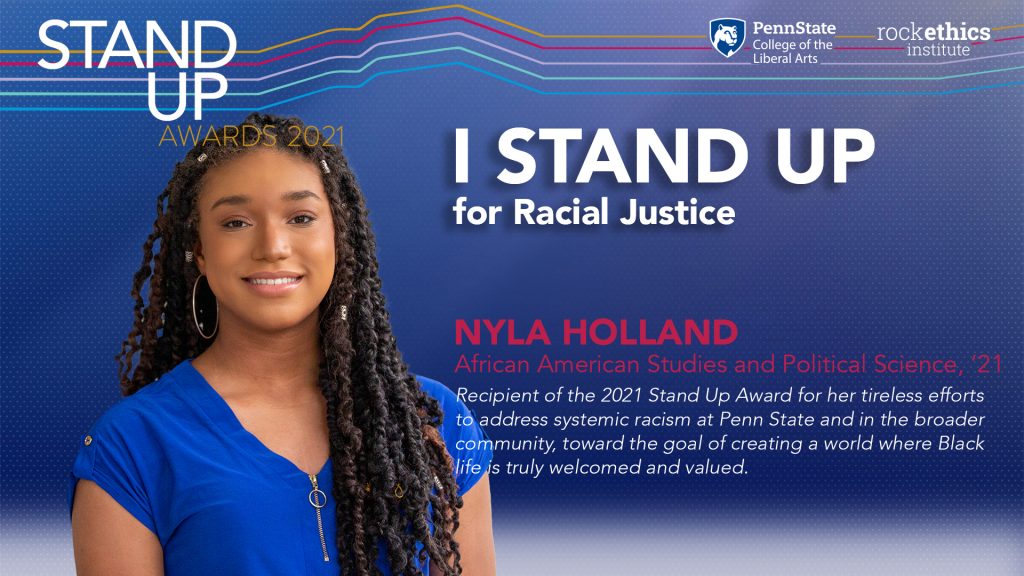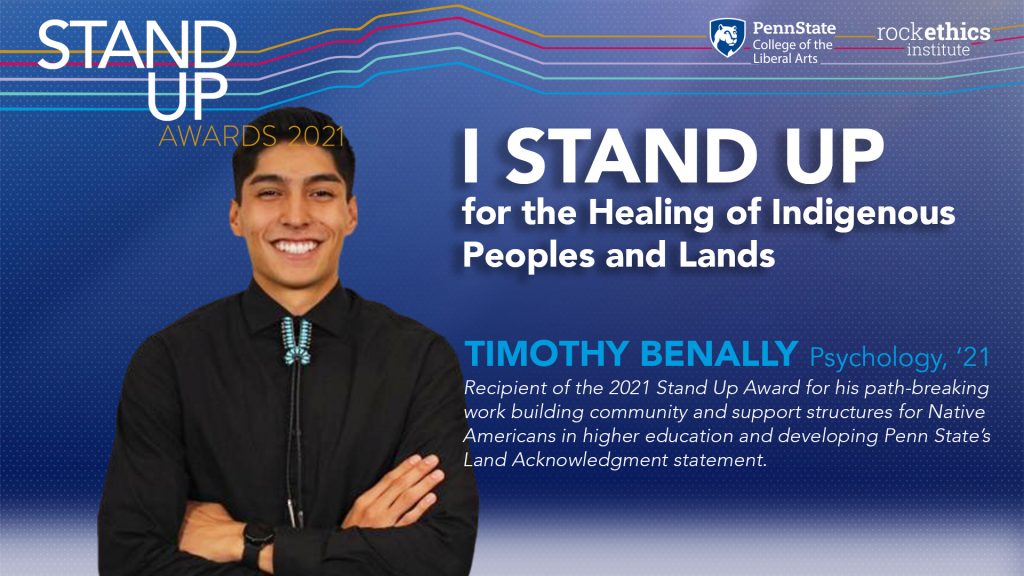 Topic(s):
Fellowships and Awards